Join today and get free shipping on your first order when you use code "WATCHMESHIP" at checkout! Plans start at $29.
There might not be that many people who fall into the category of "watch enthusiast," but for those who do, Watch Gang can provide a real service. The subscription box sends members a new watch each month. A relative newcomer to the subscription box scene, Matthew Gallagher started this subscription box service in 2016, himself a watch enthusiast.
Is it worth subscribing? Our Watch Gang review will walk you through the pros and cons and help you decide if this is the box for you.
What Makes Watch Gang Unique?
Watch Gang isn't unique because it offers customers a new watch on a monthly basis. What makes it stand out from the crowd is the quality of those watches and the fact that subscribers have the opportunity to win a Rolex each month.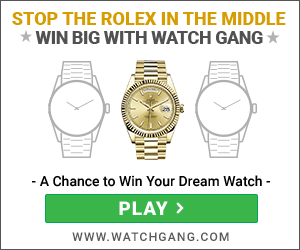 Although it does give subscribers the chance to win a high-end, luxury watch, Watch Gang primarily focuses on up-and-coming watchmakers and designers. It has been able to provide new watch companies, including those who recently had successful Kickstarter or other crowdfunding campaigns, access to an interested and engaged audience.
Pros and Cons
How the Signup Process Works
​Signing up for Watch Gang is a relatively straightforward process. Before you provide any personal information, the subscription page asks you a few questions about your style preferences.
For example, you're first asked to rate the style of strap you prefer, from most preferred to least preferred.
After that, you are asked to rank your style preferences -- Minimalist, Sport, and Dress -- in order of preference; then you're asked to rank your size preferences -- Small, Medium, and Large. Throughout the style quiz, there are pictures of watches that match each particular design or type.
Once you've ranked your style picks, the next step in the signup process is to choose your preferred membership tier. Original is the least expensive option while Platinum is the priciest, but also gives you the highest quality watches.
After you pick a tier, you're asked to fill in your shipping information, including your email address. You can include in your phone number, but that is optional. Then, you're asked to choose a payment structure. You can decide to pay monthly, or sign up for a 3-month, 6-month or 12-month prepay plan.
Finally, you move on to the last step of the process: entering your payment information. At this point, you can decide to pay with a credit card or to use PayPal. If you have a coupon code, you can enter it in this step.
Current Promotions and Deals
Right now there are a couple promotions available exclusively for first time members who join. So before you sign up, check out the deal codes below so you can get the best bang for your buck!
Pricing and Value
The value in Watch Gang lies in the fact that members receive watches worth much more than the cost of the subscription each month. The lowest cost tier, known as Original, costs just $29 per month. In that tier, you are likely to receive a watch worth between $50 and $100.
The middle tier, Black, describes itself as "affordable luxury." It costs $99 per month and promises you a watch worth between $150 and $500 each month. The top tier, Platinum, describes itself as "super luxury." It costs $299 per month and offers watches worth $500 to $1,500.
Watch Gang does offer additional discounts to customers who purchase a "prepaid plan." If you pay for three watches (or three months) up front, you save 5 percent. Purchase and pay for 6-months, and you save a bit more. Purchase 12 months up front, and you essentially get a free watch.
One thing worth noting when subscribing to Watch Gang is that the price of shipping isn't included in the monthly or per-watch price. If you live in the US, shipping is an extra $9.95 per month.
The subscription box does ship globally, but you'll pay for the privilege. International shipping is $29.95.
Another thing to point out is that you have to pay a fee if you prepay then want to cancel your subscription. If you cancel the prepaid plan after you receive your first watch, you'll have to pay a 20 percent fee.
Public Perception
For the most part, people seem to love Watch Gang. Reviews of the subscription box are largely positive. That makes sense since the company is targeting a relatively small niche -- watch enthusiasts.
Those who weren't happy with the service and who ended up canceling their subscriptions felt that the watches were on the low end or weren't well made. A few also complained about the packaging, noting that their watches were shipped in paper envelopes, not sturdy cardboard boxes.
Others felt that their style preferences weren't taken into consideration and that the company just sent whatever watches they had on offer.
Although there are some unhappy customers, it's worth pointing out that the vast majority of comments and reviews of Watch Gang are positive and that people seem delighted with the service overall. If you're interested in trying it out, it might be worth purchasing a subscription one month at a time. That way, you won't be stuck paying the 20 percent fee if you end up canceling.
How It Compares
How does Watch Gang stack up to other watch subscription boxes? It seems to be in the middle of the road when it comes to price. For example, another watch subscription service, Wrist Society, costs $29 per month and you get to keep the watch.
At the higher end, Eleven James starts at $150 per month, but you don't get to keep the watch. Instead, it's a rental service, and you're expected to return the item after three months.
Since Watch Gang offers both lower end, basic watches and more high end, luxury items, it falls smack in the middle when it comes to value, price, and quality.
FAQ's
What if I hate the watch I receive?
Have more questions about Watch Gang? Leave a comment, and we'll answer it!
Is It Worth It For Me?
If you love watches and are interested in starting or adding to a watch collection, without breaking the bank, Watch Gang would be worth it for you. The subscription service is a great way to get to know up-and-coming watch companies and to get to invest in pieces at a discounted price.
Obviously, if you can't remember the last time you wore a watch or don't see the point in owning multiple watches, this is a subscription service to skip.
So, if you love watches, give Watch Gang a try. Let us know what you think of it, especially if you're one of the lucky few to win the Rolex!